MORE VIDEOS OF ACCORDION PLAYING EXAMPLES (PAGE TWO)
There are of course six other video pages here on this website.
They are divided up in order not to overload your web browser too badly
Video Examples Page One - Video Examples Page Two - Video Examples Page Three
Video Examples Page Four - Video Examples Page Five -
Video Examples Page Six - Video Examples Page Seven
This is Video Examples Page Two
---


Now a video about various ways of showing 12/8 compound time
About playing in 12/8 again, a compound time signature where four beats are subdivided into three quavers (or quarter notes modified to fit) instead of the normal two to a beat.
The first part is for left hand only, the second for the right hand doing some of the work and the third example trying to put them together in a tune.
You may notice with the combination method that it is the nicest sounding. Also that when the tune is rattling out the triplets the bass can relax into a very basic note chord note chord pattern.
When the tune stops on a longer note or is paused the left hand can move in with triplets. Sometimes only the first and third note of the triplets is needed in the bass to nudge the music on a little. This is similar to a dotted note but more relaxed.
---
A Video on the real meaning of the Dotted Crotchet and Quaver and how to actually count them
This is about the most misunderstood part of playing in rhythm . The accordion is probably the easiest instrument to explain this on so just watch and I think you'll get it. It is playing 1 1/2 beats followed by half a beat and then onto the next beat or as music readers understand it a dotted crotchet followed by a quaver
Although the concept of one and a half beat note followed by a half beat note note is indeed simple, as has been helpfully pointed out to me, there is a gap between that knowledge and actually playing it correctly without worry and effectively.
Through my life in teaching and playing I have seen the nervousness as the "fast" note approaches. leading to it being played early, in the wrong place or not at all and this always is apparent if accordion club members attempt to reconcile the results in group playing.
In fact the accordion can demonstrate the correct use of dotted notes very clearly due to the basic habit of playing a left hand part on the beat. Note that you can only hear how long a note is after you have played the next note of course, so I will have to give you an extra beat after to clear it up.
If you are in 3 time and need to play a dotted crotchet and quaver from the first beat the count is 1 (2) & 3 where the left hand only plays (2). I believe there is a basic failure of logic that gets into your mind trying to tell you that because any kind of crotchet or quarter note is less than two beats it must go before you count 2. But wrong when an extra half beat is added to the note, as THE DOT IS ON THE COUNT OF TWO. You count two to represent the dot half beat and only after that does the next half beat note have permission to play.
In practical terms it means you just use BOTH hands then Left - then Right - Then BOTH for the note after. Better watch the video which explains that side of it pretty thoroughly and easily.
In the video I point out that music notes are not in fact classified as FAST or SLOW and this illusion only comes about depending on the order they are placed in inside the music.
Music Notes are LONG or SHORT in various degrees of value of course. The short ones have to wait until the full duration of the LONG note before they can sound and once played have to be replaced very quickly by the next note or leave a vacuum after them, even if it is a very LONG one!
The Long note csn therefore arrive at any speed but takes a long time to depart. The short note can arrive at any point as soon as there is a place for it but ALWAYS DEPARTS QUICKLY.
f you have a lot of short notes together therefore you get what SOUNDS LIKE a flurry of FAST NOTES, replacing each other very quickly until you get to a LONG NOTE which of course sounds pretty stationary.
---
A video on Practical Use of Left Hand Chromatic Scales
HOW AND WHEN TO USE THEM
The how when and why of using chromatic movements there. Not just for decoration but to pull the chords in. The clue is that the root found in the bass row is just one semitone above the third in the counterbass of the chord key next above in stradella bass.

So there is a natural connection there to be pointed out by the bass line.

From there on this tune I have gone from a D major harmony to a D minor one and this means that that the F# is changing to a F natural. The next movement is to E in the bass. In the second phrase the movement is A G# G F# and on the third phrase I have not gone all the way down the run to make it less obvious as a kind of musical twist to the plot as it were.

The other part of the explanation is that to avoid ending way up (vertically) on the bass buttons you can cheat a little at the beginning by backtracking down vertically to the counterbass. This starts the chromatic run upwards with a full tone but has the effect of keeping you within a smaller range of the keyboard. It keeps you within easy reach of your main key chords and except for extreme sharp keys is still possible on a 72 bass accordion.
EXAMPLES for the simplified chromatic bass runs
G A Bb B C (optionally on to C# D)
D E F F# G (optionally on to G# A)

Other things you may notice. The note-for-note run up in the bass middle section is neither chromatic nor the same as the right hand but one third below it.
E F# G# bass against G# A B in the treble.
There is also a very short chromatic run in contrqry motion at a couple of points, if I remember rightly it was C C# D

Then of course, although the same bass movements are not possible in the contrasting middle section of the tune, the contrast is further enhanced by a different bass and treble treatment altogether. This makes for more interesting listening.
---
BRINGING IN THE LEFT HAND AFTER A RUN - TWO WAYS
The conventional way is to start on the first beat of the first complete bar after the run.
You can also in a more relaxed style wait one beat or more, as shown in this brief video. The first bass note may be a chord rather the conventional bass note or various combinations of note and chord, even with all chords, or all on notes.
---
A WALTZ DOES NOT HAVE TO ALWAYS BE PLAYED EXACTLY THE SAME WAY
This is your 35th video I think and this time on some variations on threefour time commonly known as waltz time or three in the bar. I tried to bring the accordion in as close as I could for you so it was not the ideal playing position.
First the basics, then a bass only playing in three and then a demo of putting It all together. At the very end you will notice one or two especially nice textures by sharing the chords between right and left hands. But you will probably have left by then!

---
FINDING YOUR FULL TONE AND SEMITONE DISTANCES ON STRADELLA BASS INCLUDING LITTLE EXERCISES TO HELP
The semitone distance is as close as you can get on a keyboard on our system of music. The tone goes to the next name, eg F to G, D to E, Eb to F etc but jumps over a black note in between.
A tone may also miss out a black note as on Ab to Bb, C# to D#, F# to G# etc. Be aware also of the different possible spellings of these G# to A#, Db to Eb, Gb to Ab etc
In Western music there are generally more tone distances than semitones. This is probably not true for Eastern European music
ERRATA
I say missing out the Bb, I meant of course missing out the F key to go to the Bb key!
Stay with the video for the useful exercises.
Exercises here are note
First C D C B C (also usable as G A G F# G, F G F E F and many more)
The most basic, an easy obvious tone up then an easy obvious semitone down
Full tones G F G A although it could be done all on the same row a neater less spread out version is shown, using the knowledge that you can go a tone up by going down to the counter bass button missing out just one key area. Although both going up and down are jumping over only one key this movement feels more of a stretch because you are also changing rows.
After a slight false start I give you G A Bb A G (a G minor chord version) with the Bb played by the 5th finger (ouch). Perfectly easy to do though if you prepare the phrase by covering all notes, particularly the 5th finger in position before you start. Also if you have difficulty moving your little finger think of it as just squeeaing the hand together at that point instead of pumping the little finger up and down!
Other versions of this last one are of course F G Ab G F, D E F E D etc but all you have to do is do the shape.
---
Two simple to play Riffs you have probably never used
On close examination these are just minor and major runs but with the last two notes reversed. But quite effective and a good way to make sure you are flexible in your bass playing.
Here are the diagrams for the video. NB REVERSE NOTES 4 and 5 AND YOU ARE BACK TO PLAYING STRAIGHT RUNS.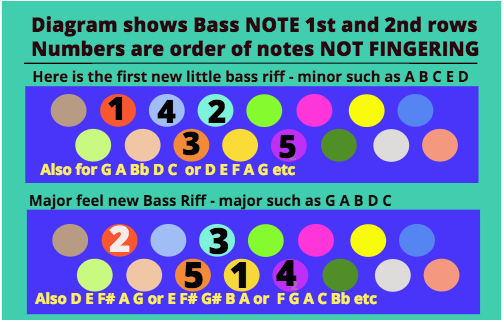 Very basic, but try playing one straight after the other and you have something else, and very good practice material.
---
About Playing Musically, Understating and Even Playing Economically
A little about playing and arranging musically this morning. Trying to make points about the value of understating notes, freeing the right hand to do interesting stuff by not playing bass against it, a little on varying the bass too.
Also on the importance of having your fingers over as much of interesting treble runs before you start and some successes and failures in this video. You have to think of as much of it as possible first to do this and ideally have a good idea of what it is going to sound like!
About understating while playing rather than ramming the sound down your listeners' throats, paricularly in regard to relaxing the bellows movement after initial impact, especially on long notes. This has been mentioned before here of course, in relation to making a nice smooth almost bell-like tone.
My videos do not always end up being about what I thought they would cover!
---
RIGHT HAND MOVING CHORDS DEMONSTRATION
There are written explanations with suggested fingerings on the RIGHT HAND IDEAS page of this website. You may find this easier to follow, just by watching it being done. Particularly useful of course for non-readers.

---
CLARIFYING SEMITONE AND BASS MOVES iN THE LEFT HAND
Watch out for the useful exercises to try from about 3:18 in this 5 minute video. Perhaps because they are still fairly basic in character this makes them ideal to match up to use between song phrases in many different instances.
This starts out as a video to clarify the relationship between notes, particularly the full tone move and the semitone move on your stradella bass, both the obvious and the less obvious. Sometimes my spoken description strays a little
It may be a little basic and obvious to you to begin with but be patient and it may present ideas clearer than you have had them before
.
Most importantly stay with this video for useful little exercises to consolidate practical use of knowledge about stradella bass tone and semitone moves
---
ABOUT SYNCOPATION
Some thoughts on what syncopation is, both obvious and subtle versions. With examples from five different songs in different idioms.
I hope you can tell the differences between the "before and after" versions as they often contaminate each other. When trying to show how not to do something I can end up doing it and instinct can also take over.
---
DECONSTRUCTING MY VERSION OF A WALTZ ACCOMPANIMENT
I thought it was time that I did a deconstructing session on the way I play and arrange so this is a simple waltz.
My basic principle is to avoid the constant annoyingly repetitive oom pah pah waltz bass habit and allowing the right hand to fill in by itself if the tune is there to do it.
And to try not to offer the same solution too many times consecutively. Unless you particularly want to emphasise some notes by playing together. The first beat of the bar is mostly played hands together however.
I tried to make the second version as similar to the first as possible but as I do not work from the script there will be variations
---
MY TANGO PLAYING METHOD ON ACCORDION
It employs more dotted beats than most people use, though possibly the straight four effect only applies to one type of tango. There are two main types.
To my mind it is much livelier and gives a more foot-tapping feel to the music. But use your own discretion of course.
A simple way of making a Tango extremely recognisable by the way is to accent the fourth beat of the bar, pulling towards the first beat of the next bar.

Page: CUSTOM COFFEE MUGS
---
PLAYING WITH EXPRESSION
I regard the accordion as one of the most expressive instruments in the world, not just as a purveyor of recognisable tunes
This video dives into more restrained use of the bellows for long notes or phrases, phrasing differently to create a fressh approach to a tune, holding back from using the bass to allow the nuance to show through. And using that almost chiming gentle percussion effect.
Extra good news here is that the most effective tones for using for this style of playing are on ALL accordions, even 3 voice, not just my lovely Italian Victoria accordion.
Try these methods to absolutely break the hearts of your listeners (in the nicest possible way of course!)
---
Some Thoughts on Playing a Boogie Bass Line
And exact fingering and when you might want to use your fifth finger, although not compulsory.
For best results you might want to strap on your accordion while watching this video. Very direct instruction is included
---