CURRENT PROJECTS
Alex now plays for weddings and events back in his native Cornwall on piano or on accordion, on both of which he has cultivated a distinctive style. He has a Roland FR-8x and a new Victoria Italian acoustic accordion he ordered specially in Castelfidardo Italy. It is the Victoria accordion that has inspired him to write this website.
The Victoria has already featured in festivals and in conjunction with jazz pianist Michelle Saacks as the duo Cafe Moods. Ig seems to be equally as popular as the wide ranging sounds of the Roland accordion.
When booked to play piano he loves to find a good one to play in situ, but if not has a beautiful sounding Roland piano he can bring to the event for a small extra fee.This portable in fact, is featured on a lot of his sound files and some videos are grsyitomg his home Roland complete with a close up view of his playing abd arranging technique.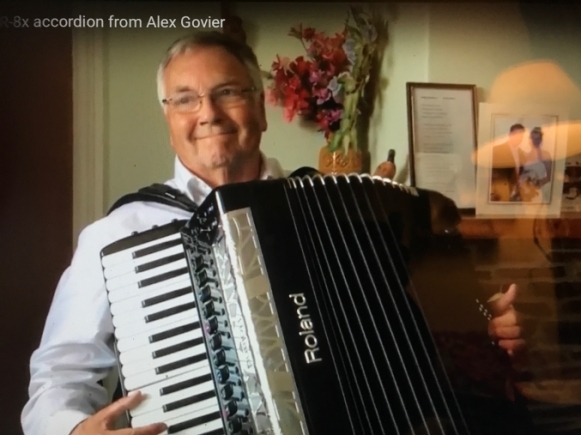 His main music Websites for that are www.weddingpiano.net and www.playing4u.co.uk where many tunes and videos are featured.
BUT ALSO
There is a YouTube Channel
https://www.youtube.com/user/alexmisterpianoman/videos
also a Soundcloud selection of his music you can listen to freely
URL: https://soundcloud.com/alexmisterpianoman
He is on Lemonrock at
https://www.lemonrock.com/alexpiano
Some of his artwork is featured on
http://www.cornwallgalleries.com/alex_govier_paintings.html
His professional playing Facebook site is at
URL: https://www.facebook.com/WeddingMusicCornwall/
The Facebook Accordionwise Page is on
https://www.facebook.com/Accordionwise-Friend
A light cafe music style duo project is shown on this page
https://www.facebook.com/cafemoodsmusic/
I am also currently featured on The Bridal File
https://www.thebridalfile.co.uk/wedding-music/cornwall/alex-govier.-wedding-piano-or-accordion-2496.asp
HOW IT BEGAN
Musical versatility was established early on, when after learning piano with a local church organist in Truro Cornwall, UK he went on to play the organ and simultaneously worked as a local newspaper reporter, church organist, rock and roll band member, and piano accompanist and accordion solo act for a local variety show just before QUEEN began their career in the same theatre
TRINITY COLLEGE OF MUSIC
As he progressed in musical studies it became obvious he should concentrate on that and qualified to attend Trinity School of Music in London and with a fourth year in London University school teaching department then in Tavistock Square.
PLAYING THE ST. PAUL'S CATHEDRAL ORGAN
While at college he was taught by Harry Gabb, organist for the Queen (yes the same one!) at St James's Palace and sub-organist at St. Paul's Cathedral. Occassionally he would play the final or opening voluntaries at some Evensongs at St. Paul's with its amazing five-manual organ featuring pipe work all around the cathedral from altar to back. This was useful for his mentor who always had another appointment to hurry on to afterwards.
it was great to bring up the sound from either side of the choir area to all around the church Leaving out the dome tubas though as instructed because guides would start escorting groups around the whispering galleery up there soon afterwards!
GRADUATE AND FELLOWSHIP
In his third year at Trinity College he became a Graduate and also the rare distinction as a Fellow of Trinity College of Music London (FTCL) in organ playing, there was normally only one Fellowship per year awarded per instrument.
CHANGE OF ANGLE
Initially destined to be a school music teacher he soon changed to the field of professional music in cabaret in Bristol and then on to the Northern clubs.
So he found himself accompanying on Hammond organ, piano and keyboards all kinds of music from rock and roll and ballad singers, guitarists or duos country singers to classical style including Italian style tenors and meeting many interesting and well-known people.
PLAYING AND ARRANGING
Therse normally worked from handwritten arrangements to suit the voice and key of the particular entrtainer. Mostly these had to be pruned down to basics so it is necessary to read and rewrite them in your head simultaneously in front of an audience without rehearsal.
If you played these literally they would have sounded abysmal. They needed not just vamping chords but proper baselines, contrasting countermelodies against the tune and fill ins to keep the sound interesting while the singer paused for breath.
SIMILARITY TO THIS WEBSITE
This is actually very similar to what needs to be done when accordionists work from top line and chord arrangements, but often these have to be left literally played and not very interesting or musical to listen to. Very few people have the knowledge of what to put in, particularly as many take up the accordion as a late hobby.
WERSI ORGANS AND THE MUSIC BOX MEADOWHALL
He later simultaneously acted as Northern Manager and demonstrator for Wersi organ specialist Aura Sounds, continuing when Wersi Germany took over and then taking over the Northern department himself. Later he added a range of accordions to the stocks and for a time opened a branch in a shopping centre Kingston oupon Hull.
The music shop https://www.musicboxmeadowhall.co.uk which he simultaneously founded in Meadowhall Sheffield, the Music Box, is still in operation.
THE LINK TO THE DEVELOPMENT OF THIS WEBSITE
So arranging while you are playing forms a large part of what this website is about. Helping you play your music in a more interesting way and to please a more varied audience. And this should be an exciting and satisfying project for you.
And of course there will be extra things here and there to learn in order to do those more interesting things, but mostly it is a matter of just thinking clearly.